PERFORMANCE AND ITS DETERMINANTS: A BIBLIOMETRIC STUDY FOR FIXED INCOME, MULTIMARKET AND EQUITY INVESTMENT FUNDS
Keywords:
Performance, performance's determinants, systematic review, investment funds.
Abstract
Investment funds have increased their net worth by 250% in the last 10 years and allow investors to reach markets, products and cost and liquidity conditions that they would hardly have access to individually, which facilitates the diversification and composition of more profitable portfolios. Based on its relevance, this work seeks to highlight the situation of national academic production regarding the relationship between performance and its determinants for fixed income, multimarket and equity funds. To this end, a systematic review of the content and results of Brazilian studies is carried out, with no time limit and for the three classes mentioned. The sample consisted of articles from the SPELL® and Scopus® databases, in addition to master's dissertations and doctoral theses from programs grade 6 and 7 in Administration by CAPES, according to the classification in November 2020. The results indicated warming production from 2014, focus on the equity fund class, concentration of productions in FGV's master's programs and dispersion of publications among periodicals. As for the most productive authors, there was dispersion, and for the most referenced, a central line was identified that underlies most of works. Finally, the explanatory or control variables used in the studies were presented and the results of each determinant were compared between the different studies reviewed. The results of the article contribute and guide future research in area, offering a current cut of studies related to investment funds and performance in the Brazilian scenario, and results that can receive specific attention and support interesting discussions.
Downloads
Download data is not yet available.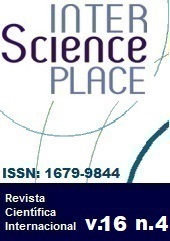 Downloads
How to Cite
João Paulo Santa Cecília Moraes, & Antonio Sérgio Torres Penedo. (2022). PERFORMANCE AND ITS DETERMINANTS: A BIBLIOMETRIC STUDY FOR FIXED INCOME, MULTIMARKET AND EQUITY INVESTMENT FUNDS. InterSciencePlace, 16(4). Retrieved from http://www.interscienceplace.org/index.php/isp/article/view/81
License
This work is licensed under a Creative Commons Attribution 4.0 International License.