STATE OF CIENTIFIC ART RESEARCH ON COVID-19 AND WORKER HEALTH: A SURVEY IN THE SCOPUS ELSEVIER DATABASE
Keywords:
Bibliometric, COVID-19, Occupational Health
Abstract
The world lives the COVID-19 pandemic outbreak, pathology capable of cause mild and severe breathing problems, which can be associate with complications in the respiratory system. The pandemic has directly affected the workers class, especially the workers in the health area. In view of this scenario, the present study deals with a bibliometric, exploratory research that forms a scenario based on the authors with the largest number of publications involving the terms COVID-19 and Occupational health, journals with the highest incidence of the term, areas and countries with the highest volume of research, type of dissemination, institutions that most financed studies on the subject and the main funding agencies. Therefore, it was adopted a bibliometric model which is based on the Scopus Elsevier database, of the CAPES journal. The survey was carried out on March 9, 2021. The descriptors used for the search were: "COVID 19" AND "WORKER" AND "HEALTH". The database returned a total of 3,982 texts. In relation to the country with the highest research index, the United States of America stands out. With regard to the area of ​​concentration, medicine is in first place in the ranking. The article modality, the Harvard Medical School institution; International Journal of Environmental Research and Public Health; the authors Latkin, C. A .; and Tran, B .; and the development agency National Foundation for Natural Science of China (NSFC) stands out within the context.      
Downloads
Download data is not yet available.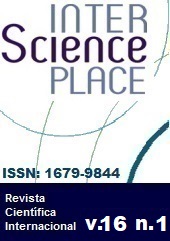 Downloads
How to Cite
Lucas Capita Quarto, Fabio Machado de Oliveira, Fernanda Castro Manhães, & Carlos Henrique Medeiros de Souza. (2021). STATE OF CIENTIFIC ART RESEARCH ON COVID-19 AND WORKER HEALTH: A SURVEY IN THE SCOPUS ELSEVIER DATABASE. InterSciencePlace, 16(1). Retrieved from http://www.interscienceplace.org/index.php/isp/article/view/8
License
This work is licensed under a Creative Commons Attribution 4.0 International License.